Stocks Rally Despite Lingering Coronavirus Fears
The stock market on Tuesday continued to bounce back from last week's sell off, amid what appears to be a wider recovery in global stocks after China's massive coronavirus-related sell-off on Monday.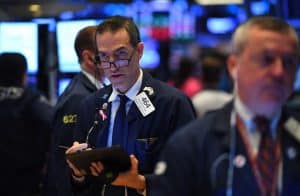 All three major U.S. indexes were trading higher by more than 1% in pre-market trading on Tuesday: S&P 500 and Dow futures were both up by nearly 1.3%, while Nasdaq futures rose by 1.5%. 
Global markets also recovered somewhat on Tuesday, despite Chinese stocks suffering their worst day since 2015 on Monday, when the benchmark Shanghai Composite index fell nearly 8%—wiping out some $400 billion from China's stock market. 
Global stocks reversed some of the previous coronavirus-related losses from yesterday, as Chinese officials took more steps to shore up their economy: The Shanghai Composite rose 1.3% and Hong Kong's Hang Seng index was up 1.2%. 
Some of those gains spilled over into Europe, where The Stoxx 600 index gained 1.1%, London's FTSE 100 climbed 1.4%, the German Dax rose 1.2% and France CAC 40 was up 1.3%.
Back in the U.S., stocks that have been hit hard by fears of the coronavirus' economic impact appeared to rebound, including travel stocks, like cruise operators and airlines, as well as companies with large production in China such as Apple, which rose 2%.
Tesla stock also kept up its amazing momentum, rising another 14% in early trading on Tuesday after Monday's nearly 20% gain sent shares to new record highs. Tesla short-sellers, beware: Investors who have bet against the company have lost more than $8.3 billion so far in 2020.
The rebound in U.S. stocks comes after markets plunged last Friday, with the Dow posting its worst single-day loss since August 2019—and fifth-biggest drop ever, while the S&P 500 saw its largest decline since October. All three major indexes started to bounce back on Monday, when they posted gains of less than 1%.
Despite the boost for world markets on Tuesday, the fast-spreading coronavirus outbreak continues to worry investors around the world as they fret about its impact on the global economy. Hong Kong reported its first coronavirus death on Tuesday—the second fatality outside of mainland China. As of Tuesday morning, the virus has now infected more than 20,000 people and killed at least 461, according to China's National Health Commission. The deadly coronavirus has now surpassed the level of severity seen in the 2002-2003 SARS outbreak in China, which killed some 800 people and infected 8,000. Investors in both the U.S. and abroad continue to be anxious about the disease's impact on China's already slowing economy, not to mention what effect that could have on the global economy.
From: Forbes
For any service of logistics you can contact us and we inform you about all process